The Authoritarian Resurgence: The Impact on Democracy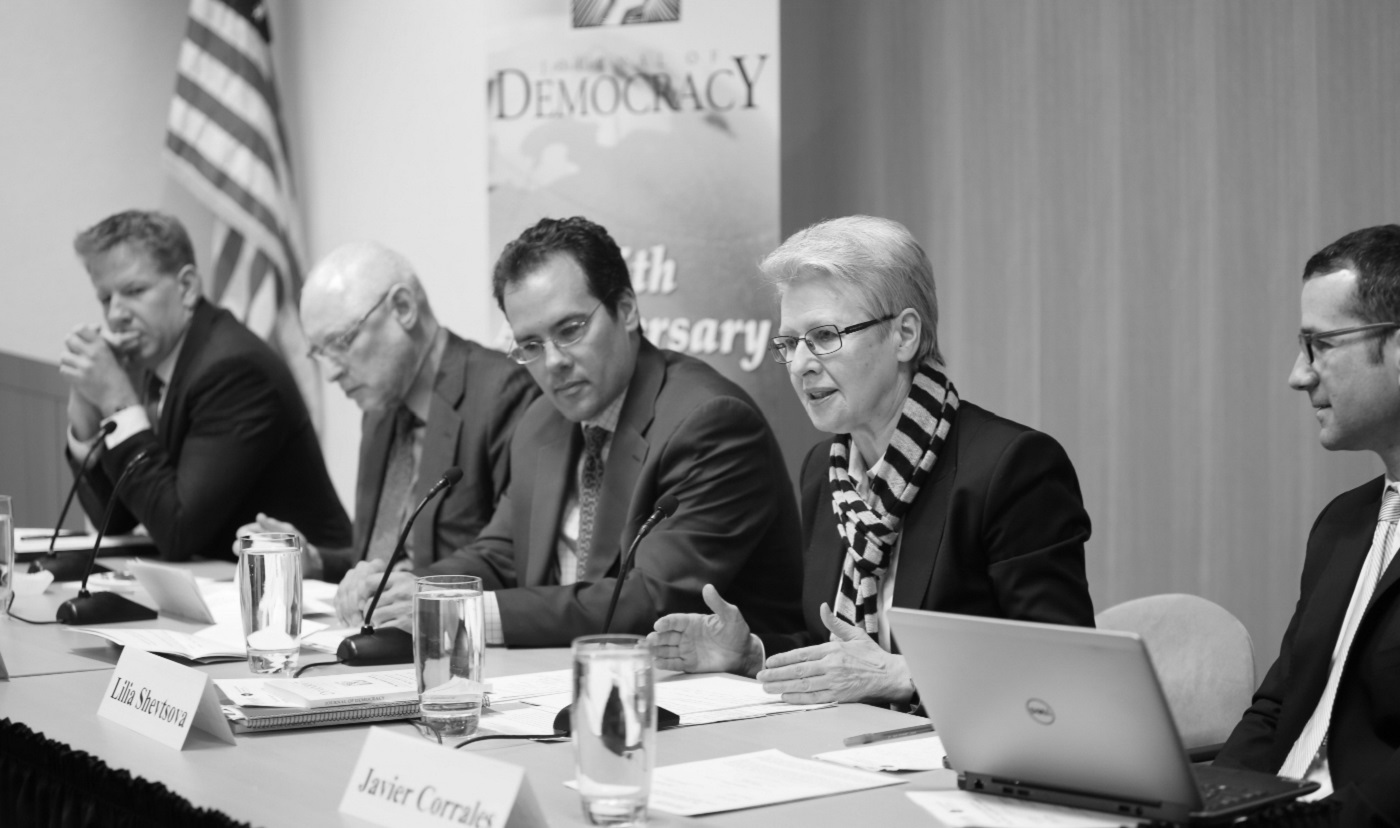 May 21, 2015 | by Hainer Sibrian
How are the world's most influential authoritarian regimes influencing democratic standards and development? This question was at the heart of a recent discussion organized in Washington, DC, with four leading experts. The panel was held at a time when repression of independent voices has been sharply intensifying around the globe. Andrew Nathan, Lilia Shevtsova, Frederic Wehrey, and Javier Corrales, all of whom have articles published in the Journal of Democracy on the subject of authoritarian resurgence, assessed the policies and influence of four key authoritarian countries: China, Russia, Saudi Arabia, and Venezuela.
In addition to stifling the public sphere by cracking down on civil society and news media, the governments in the countries discussed are taking the lead in finding new ways to block freedom of expression and hamper the free-flow of information using innovative technologies and market-based strategies as a way of modernizing repression.
The conversation with the experts was wide-ranging and identified a diverse number of efforts by these illiberal regimes to counter democratic development, but three broad points are worth noting:
Neutralizing the Rules-Based International System. Each regime seeks to influence and coopt supranational rules-based institutions in ways that minimize democratic accountability. As members of the UN Security Council, for instance, Russia and China prove to be quite effective in this regard. Lilia Shetsova highlighted Russia's consistent assertions of national sovereignty and insistence on the principal of non-interference. Andrew Nathan noted China's influence in shaping international institutions such as the UN Human Rights Council, where China has helped alter procedures subjecting all countries to Universal Periodic Review "in a manner that is extremely friendly to the country being examined."
Massive Soft Power Efforts. These regimes use state-sponsored international media to challenge universal norms and promote an anti-democratic counternarrative. In producing content for international consumption, regimes manipulate the narrative on key issues to their own ends and often spread disinformation. In Saudi Arabia, the media espouse the perspective of a non-democratic Arab world, Fred Wehrey observed. This allows Gulf authoritarians to characterize democratic political movements and trends as threats to regional security. Meanwhile, Javier Corrales made the observation that Venezuela's "remarkable use of economics and trade" to advance its anti-democratic foreign policy actively undermines "the possible emergence of a regime [in Latin America] that defends pro-democracy [values]."
Regional Interference. These key authoritarian countries actively interfere in the affairs of neighboring states to maintain influence, ensure homogeneity among the political systems in their immediate region, and inhibit ideological alternatives to their form of rule at home. Nathan and Wehrey agreed that the illiberal regimes implement foreign policies "geared to insulate ideological threats": China has sought to actively influence local politics in Hong Kong, Macau, and Taiwan, while Saudi Arabia has applied force to repress the emergence of alternative political ideologies and regime types in Bahrain and Yemen.
All of the countries discussed are in important ways integrated into the economic, political, and security orders at the regional and global levels. Given this degree of integration, the established democracies will face complex tests in ensuring that democracy and human rights standards are safeguarded in the global system. When undemocratic regimes flout the rules of a rules-based institution, the challenge of holding them to account lies with the democracies. Reflecting on the unwillingness of illiberal states to abide by international norms and rules, Shevtstova asked, "Is it the problem of Russia, or Russians, Azeris, or Chinese? No, this is a problem of liberal democracies. The problem is not [the autocrats'] ability to coopt [the West], but the ability or readiness of Western populations to be coopted."